BIO
STAN REMY
Remy is an NBA Skills Development Trainer. He has worked with players such as Dwyane Wade, Jeff Green, Ande Drummond, Keyon Dooling, Brandon Knight, Udonis Haslem and many more... The #RemyWorkouts training and development philosophy begins and ends with a no-nonsense approach to high-level fundamental skill development combined with mental toughness and sports-specific performance training.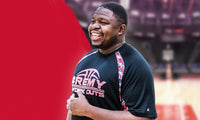 PHILOSOPHY
Remy firmly believes that balance and footwork are vital components to success on the basketball court. We ensure that these components are incorporated into everything we do with our athletes. Focused training is the best means for a player to achieve significant and lasting improvement on the basketball court.
At #RemyWorkouts we have created five main service formats to assist our athletes in becoming 'students of the game'. At the same time, we work to give them a complete understanding of a champion's intangibles; work ethic, attitude, discipline, and commitment.
DEVELOPMENT
This philosophy empowers our athletes' with knowledge and information to further improve their skills, whether that setting may be with a team, small group or individually. During training, a focus on hard work, a positive attitude, and dedication to improving performance every time a player touches a ball is paramount. #RemyWorkouts works with each athlete to develop his or her own personal basketball blueprint.